WATCH FOR UPDATES!
VAD is celebrating 50 years as an organization and is looking for 50 positive stories that are 50 seconds long about the disability community.
Want more information, email teresa@vadsociety.ca for details. Submissions will be accepted by email and compiled to create an anniversary video.
Cell phone videos are acceptable and maximum time allotted is 50 seconds per submission in landscape, mp3 format.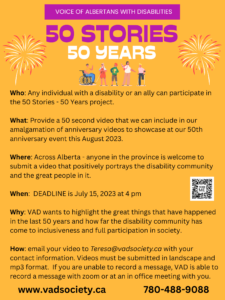 Can't video yourself…call Teresa 780-488-9088 to arrange a short interview on zoom or in our office, we are willing to accommodate you.
Who: VAD members and other associates that have worked in the disability field, any individual with a disability or an ally can participate in the 50 Stories – 50 Years project.
What: Provide a 50 second video that we can include in our amalgamation of anniversary videos to showcase at our 50th anniversary event this August 2023.
Where: Across Alberta – anyone in the province is welcome to submit a video that positively portrays the disability community and the great people in it.
When: DEADLINE is July 15, 2023 at 4 pm
Why: VAD wants to highlight the great things that have happened in the last 50 years and how far the disability community has come to inclusiveness and full participation in society.
How: email your video to Teresa@vadsociety.ca with your contact information. Videos must be submitted in landscape and mp3 format. If you are unable to record your message, VAD is able to record a zoom message or in office message with you.