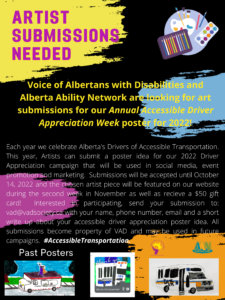 Voice of Albertans with Disabilities and Alberta Ability Network are looking for art submissions for our
Annual Accessible Driver Appreciation Week
poster for 2022!
Each year we celebrate Alberta's Drivers of Accessible Transportation. This year, Artists can submit a poster idea for our 2022 Driver Appreciation campaign that will be used in social media, event promotion and marketing. Submissions will be accepted until October 14, 2022 and the chosen artist piece will be featured on our website during the second week in November as well as recieve a $50 gift card! Interested in participating, send your submission to: vad@vadsociety.ca with your name, phone number, email and a short write up about your accessible driver appreciation poster idea. All submissions become property of VAD and may be used in future campaigns. #AccessibleTransportation.
---
Voice of Albertans with Disabilities (VAD) is pleased to partner with the Alberta Ability Network (AAN) to celebrate the Annual Accessible Driver Appreciation Week the second week in November.
Please let the people who drive and schedule accessible transportation know that they are appreciated by your organization. It is through their daily work that many people get to live, work and play in our communities.
Thank you for your welcoming manner, your professional driving skills, and your organization of complicated scheduling demands. Your work is essential to support the full participation of persons with disabilities in society.
---
WATCH FOR UPDATES AS WE GET CLOSER TO THE EVENT!
Thank you video
---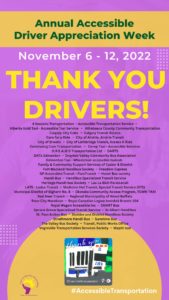 A list of service providers in the Province.
4 Seasons Transportation

Accessible Transportation Service

Alberta Gold Taxi – Accessible Taxi Service

Athabasca County Community Transportation

Calgary City Cabs

Calgary Transit Access

Care for a Ride

City of Airdrie, Airdrie Transit

City of Brooks

 

City of Lethbridge Transit, Access A Ride

Continuing Care Transportation

Co-op Taxi – Accessible Services

D.R.E.A.M.S Transportation Ltd

DARTS

DATs Edmonton

Drayton Valley Community Bus Association

Edmonton Taxi – Wheelchair accessible taxicab

Family & Community Support Services of Castor & District

Fort Macleod Handibus Society

Freedom Express

GP Accessible Transit – ParaTransit

Handi Bus society

Handi-Bus

Handibus Specialized Transit Service

Heritage Handi-bus Society

Lac La Bich Paratransit

LATS – Leduc Transit

Medicine Hat Transit, Special Transit Service (STS)

Municipal District of Bighorn No. 8

Okotoks Community Access Program, TOWN TAXI

Red Deer Transit

Regional Municipality of Wood Buffalo

Rose City Handivan

Royal Canadian Legion Innisfail Branch 104

Royal Wagon Accessible Inc

SMART Bus

Spruce Grove Specialized Transit Service

St Albert Handibus

St. Paul Action Bus

Stettler and District Handibus Society

Strathmore Handi-Bus

Sunshine Bus

The Valley Bus Society

Transit, Public Works Office

Vegreville Transportation Services Society

Wapiti taxi
---
TOOLKIT
Coming Soon…watch for the new poster for 2022, we will upload the stickers, posters, and thank you cards for your use in October.